StoryMasters are professional storytellers and authors whose experience and talent will delight and entertain those who are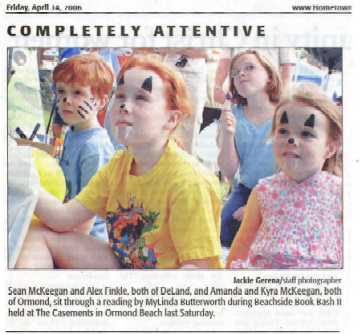 fortunate enough to hear and see their magic.
In conferences, women's groups, schools, libraries, college, classes and more. StoryMasters -Gramma and Myndy's high energy presentations have delighted all ages. Their enthusiams for life, reading and art leaves audiences with a new understanding and joy for the world of children's books.
Gramma delights with the quickness of her magic scissors as she turns ordinary paper into works of art. Then with the wave of her arm, a blank sheet of paper and a marker she draws fanciful critters to delight. "Art is just another way of telling a story," she says.
Myndy is quick with a tongue twister, a song and a story. No matter the subject she can find a story to tell and weave her magic through voice and action.
We add dimension to the traditional storytime. We use and teach the art of "vocal pyrotechnics." In addition to storytelling we also provide workshops to teach performers, educators and others how to enhance storytime by using puppets, storyboards, PowerPoint, role playing, and props to create a fun experience that makes kids want to come back. Let us tell you a story, or teach you the rare art of storytelling. Contact us today for pricing and availablity. Click Here to see our current Schedule
If you are a school booking in the state of Florida we want you to know that we are Jessica Lundsford compliant.