Holiday Books
Just 24 Days Till Christmas
by MyLinda Butterworth
Book recieves a new look inside and out as it celebrates ten years of Christmas Fun!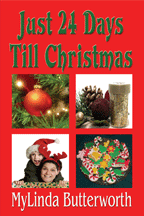 Here's a remedy for what ails the modern Christmas. Just 24 Days Till Christmas , a book for all ages which delivers what today's Santa's can't—directions and fun for celebrating Christmas as a family. A smorgasbord of activities for everyone, young and old, children and adults
It is more than a recipe, craft, activity, or storybook. It wraps all of these into one with each of the 24 days leading to Christmas. An advent calendar with a twist. Destined to be a Perennial Favorite.
Popular with busy families who want to find ways to build traditions with their children. Individuals who want to find new ways to celebrate the holiday. Teachers will use all the stories and activities for their classrooms.
A great gift idea at an affordable price.
ISBN 1-890905-10-0
224 pages
softcover Price: $16.95
What others are saying:
Just 24 Days Till Christmas is absolutely delightful! I can spend hours just reading the stories and experimenting with the recipes. It is pure fun and enjoyment for all ages. A must for every household." —Orlando Sentinel
"Don't count the calories! Just count on lots of fun and great food!" —Oviedo Voice
"The complete and ultimate guide for Christmas for kids of all ages. My tip of the day: Buy this book, it will be the only Christmas book you will need this year!" —Bob O'Brien, Consumer Advocate: Action Line Radio, TV, Newspaper Network
Old Version New Version